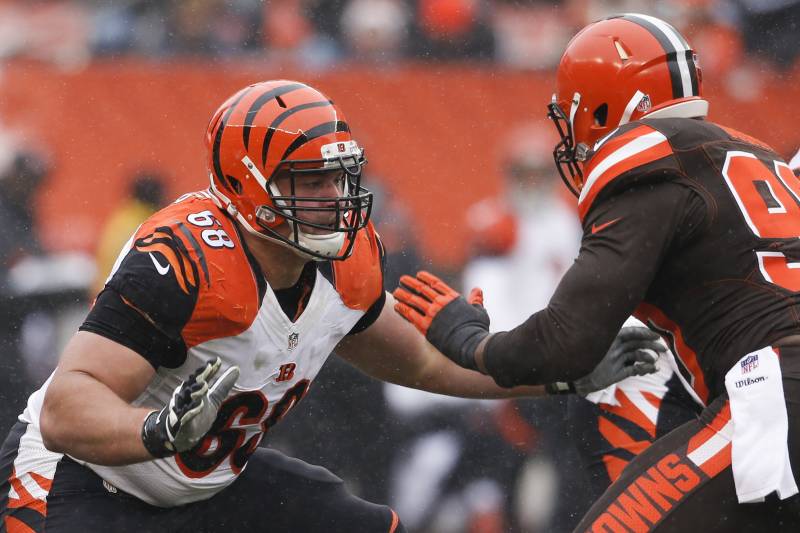 ALL-Pro Guard Kevin Zeitler switches sides from the Bengals to Browns in 2017
Are the Browns doing better or worse with respect to Free Agents in the Sashi Brown erea? That's an easy question to answer for 2017. The team has signed some good players, so they will be better than in 2016. But that does not necessarily mean the Front Office is doing a good job. Remember that last year they decided to gut the team in order to clear salary cap room, sending away an amazing six players who wound up starting for other teams. But are we really doing better compared to the 2015 squad that Sashi Brown inherited from Ray Farmer?
Let's look at the overall gains and losses starting with the 2016 off season. I've listed all of the players I can think of that left the Browns or were cut or traded, and all the guys who were signed or traded for to take their places. That includes this year's free agency so far, as of March 25.
The players are broken down into groups to allow you to more easily compare. The first group is basically a wash, in which we give up two good linemen and get two good linemen, plus backup quarterbacks.
In the seond group, we get Kenny Britt and three backup offensive linemen, and give up three very good wide receivers. It sems that the receivers we gave up have not been adequately replaced.
On defense it gets very interesting. We picked up four good players. Collins in particular is a former All Pro, but did not play particularly well coming in mid-season to a totally new defensive system. Demario Davis and Jamar Taylor are competent NFL starters if not superstars. We lost former Pro Bowler Tashaun Gipson, who was good but not great this year, while Craig Robertson emerged as a full time starter for the Saints. He was probably under-appreciated by the Browns. I think Stephen Paea will be like Robertson and contribute to the Dallas Cowboys this year. He's a very good player for a four man front. Veterans Dansby, Kruger, Whitner and Williams are on the downside of their careers, but still able to contribute.
In 2016 we clearly missed those guys but in 2017 it's less clear that they will outperform their potential replacements. I think Whitner, Kruger and Dansby might not start for the 2017 Browns. In the meantime, the Browns have accumulated several compensatory draft picks, moved up in the draft, and also have stashed away $50 million in carryover salary cap from previous years.
The regular cap is basically the annual payroll, while carryover money is like a savings account. Yes we can spend it on free agents, but once you spend it, it is gone. In some future year we will use it to bring a few key players to get us to the Super Bowl, but that time is not now.
So, it's clear why we got pasted in 2016. We let go of too much talent, even if it was overpriced. This year, the payroll is being brought back up to some extent, while the team is still investing heavily in the NFL Draft. The key obviously, is whether the Browns can scout the Draft effectively or not. Their history of blowing first round picks makes you wonder, doesn't it? And we also need to see effective player development, which includes conditioning. The Browns have not been impressive in that area, with several key young players accused of not being in shape in recent years.
But the Browns do have a strategic plan in place. It makes sense, and it's possible that it will actually work if the scouting and coaching are up to the task.
| | |
| --- | --- |
| Browns Get | Browns Give Up |
| All Pro Kevin Zeitler | Pro Bowler Alex Mack |
| Starter JC Tretter | Starter Mitchell Schwartz |
| Reserve Brock Osweiler | Reserve Josh McCown |
| Reserve Kevin Hogan | Reserve John Manziel |
| | Reserve Austin Davis |
| | |
| Starter Kenny Britt | Starter Terrelle Pryor |
| Reserve Anthony Fabiano | Starter Travis Benjamin |
| Reserve Gabe Ikard | Starter Taylor Gabriel |
| Reserve Austin Reiter | Reserve Austin Pasztor |
| | |
| All Pro Jamie Collins | Starter Tashaun Gipson |
| Starter Demario Davis | Starter Craig Robertson |
| Starter Jamar Taylor | Starter Stephen Paea |
| Starter B Boddy-Calhoun | Starter Karlos Dansby |
| Starter Ed Reynolds | Starter Paul Kruger |
| | Starter Donte Whitner |
| $50 M in carryover money | Special teams Johnson Bademosi |
| Extra draft picks | Reserve Tramon Williams |
| | Reserve Barkevious Mingo |
| | Reserve Justin Gilbert |
| | |
,