This was one of the most exciting OSU/Michigan games I can ever remember. Congratulations to Ohio Sate for an unbelievable game over a truly excellent Michigan team, 42-41. Carlos Hyde was great...so was Devin Gardner. Hyde and Braxton Miller ran for an astounding 379 yards on the ground.
http://sicollegefootball.files.wordpress.com/2013/11/carlos-hyde-michigan.jpg?w=600&h=450
Carlos Hyde was monstrously good gaining 226 yards on the ground and averaging 8.4 yards per carry.
Michigan also dead some heavy damage on the ground. They didn't test the middle much, fearing the big OSU line and outstanding middle linebacker Ryan Shazier, so basically they ran wide, and had some success with Freshmen De'Veon Smith, and Derrick Green, along with Senior Fitzgerald Toussaint. But Devin Gardner was the star compiling an amazing 451 yards through the air--and it could have been even more were it not for some big dropped passes.
The Buckeyes came up big, in the end, with Tyvis Powell reading the route and coming up with an interception during the Wolverine's attempted two point conversion attempt for the win.
http://www.trbimg.com/img-529a5438/turbine/la-sp-college-football-roundup-20131130-001/600
Tyvis Powell came up big, and came down with the ball in the biggest play of the entire season.
Afterwards, the sportscasters and sportswriters and jumping all over Michigan Coach Brady Hoke for calling for the two point conversion rather than a one point conversion which would have taken the game into overtime. I was listening to Fox Sports Radio after the game, and they were merciless.
However, in this observer's humble judgment, Hoke's decision was obviously correct. He had to either entrust his offense to make two yards, or he could depend on his defense in overtime to stop Carlos Hyde (averaging 8.4 yards per carry and getting stronger and stronger during the game). That doesn't make sense, frankly. When the defense gives up that much real estate, they clearly are getting their butts kicked and they deserve to lose.
Plus, in overtime the Hoker would have to depend on an untested backup field goal kicker, Matt Wile, with only 3 field goals in his college career, versus Ohio State's senior kicker Drew Basil, who was 8 for 9. Likewise that matchup enormously favored Ohio State. The Fox Sports crew seemed not to realize this for at least half an hour, and then sheepishly mentioned that the Wolverines were using an inexperienced backup kicker, but did not mention the importance of a kicker in overtime, only the extra point during regulation.
http://www.dispatch.com/content/graphics/2013/08/26/osufb-8-26-art0-gc5occkb-1osu12ill-mm-07.jpg
Let's see...we have a senior kicker and four year starter, while Michigan was forced to play its backup kicker. Who would have had the advantage in overtime?
Not to mention the fact that Michigan's stud quarterback Devin Gardner was hopping around on one leg by the end of the game, while Braxton Miller was just as dangerous as Hyde. Plus Braxton can throw.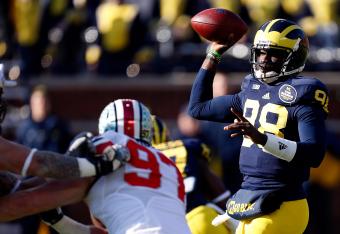 http://img.bleacherreport.net/img/images/photos/002/636/801/hi-res-452618421-quarterback-devin-gardner-of-the-michigan-wolverines_crop_north.jpg?w=340&h=234&q=75
Devin Gardner was great on Saturday, and courageously played through an injury.
The complaining by second guessers makes it sounds like the Buckeyes win was a fluke. Just kick the extra point, and Michigan was sure to be able to stop Hyde and Miller....their backup field goal kicker would be certain to outkick the Buckeye's experienced senior kicker....and Gardner's injuries were just about ready to heal at any minute. OH COME ON!
No, quit saying that the Coach blew this for Michigan. He did the only logical thing, try to score two points with just one more play, and OSU just had the answer this day. It was an unbelievable game, and Michigan was great, but Ohio State was just a bit better.
I'm going to go to the championship game next week, and I can't wait.
Michigan State will not be a piece of cake, particularly since it would be the highlight of their season to beat OSU, but not the other way around.
And Coach Meyer, about that defense...
"I really, really want you to beat Michigan State next...."
***************************************
Also I can't help but weigh in on another coach's decision, this one by Alabama's Nick Saban. After blowing four field goals with a redshirt freshman, do you try a 57 yarder to end the game? Or do you worry about the threat of a runback? I'm not aware of anyone predicting it before it happened, but in retrospect, those 300 pound offensive linemen were not going to catch one of the speediest guys on Auburn's team in Chris Davis, a 4.4 guy. What's hilarious is there is no one from Alabama in the picture during the runback, only five Auburn players and the entire sideline running to the end zone. And just like that, Auburn 34, Alabama 28. Thanks, Coach Saban.
.