It ain't over. The drafting is complete, and the Browns have 15 bright new faces to compete for jobs. But it is not enough.
There are a number of undrafted free agents that need to be signed and brought to the team. The Browns need to OUTBID the other teams and bring MORE candidates and BETTER candidates than any other NFL team! I think the Browns may decide to invest more in these low-budget players than other teams.
You may think that undrafted free agents are a mere formality, and that you just go through the motions and bring some ultra-long shot guys to camp. But that is not so.
Consider guys in recent years like K'Waun Williams, Isaiah Crowell, Connor Shaw, Taylor Gabriel, Jamie Meder, Dylan Winn...these guys are not necessarily superstars but they are good enough to help the team win. And once in a while you find someone like Tony Romo, James Harrison, Kurt Warner, or London Fletcher. They don't just show up, they are scouted, recruited and signed to rookie contracts. Teams like the Browns can be very successful because players want to be successful in the NFL and they may feel that a team like Cleveland would give them a better chance than, say, New England or Seattle.
So there is a natural advantage for lower echelon teams in recruiting undrafted free agents, and previously cut players (that, is guys who are close to the NFL minimum). I think if I were an analytics-oriented GM like Sashi Brown, I might conclude that the undrafted free agents, waiver wire guys and previously cut players are actually very comparable to the regular free agents, and accordingly I would want to outhustle the other teams and sign more of these guys.
Undrafted free agents and low budget players waived or cut by other teams are essentially like 8th round draft picks. It's not the same as a first round pick where most every player has some level of success. With undrafted rookies and You have to go through several players to find 1 good one. As I point out below, it doesn't take much to outbid the other teams for these guys.
Let's compare the expensive free agents as well as undrafted free agents and waiver wire guys:
Best regular free agents: Gary Barnidge, Paul Kruger, Josh McCown, Brian Hartline, Desmond Bryant, Robert Griffin III, Tramon Williams, Andrew Hawkins.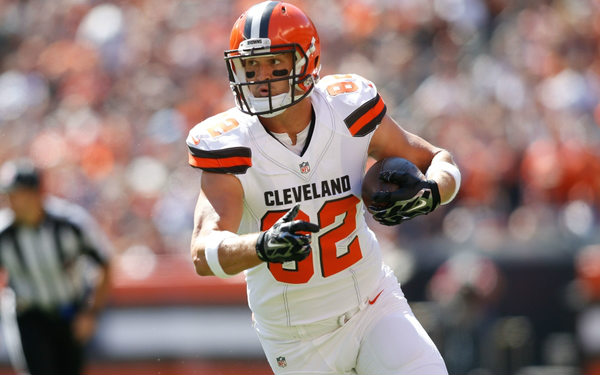 Gary Barnidge was one of the best free agent aquisitions the Browns have made.
Isaiah Crowell was one of the better Undrafted Free Agents for the Browns.

Best undrafted free agents: Isaih Crowell, K'Waun Williams, Jamie Meder, Scott Solomon, Taylor Gabriel, Connor Shaw,
Undrafted K'Waun Williams is good enough to start at Cornerback.
Previously cut players and waiver wire guys: under 1 million: Jordan Poyer, Marlon Moore,
Austin Pasztor. Tank Carder.
On balance, the regular free agents are better than the low cost guys, but you have to admit it's close. And the free agents cost big money, where as the undrafted guys and pickups do not.
It would be possible to triple your investment in undrafted free agents and signing previously cut players, by offering just
a bit of a bonus to come to camp. Under current rules, NFL teams are limited to 90 players on the off-season roster, meaning that the Browns can offer up to about 10 additional contracts this year. They are allowed to offer guaranteed money to come to camp, and with even a small bonus of like $50K, I bet most of them would accept. If you have to cut most of them, it would result in a loss of $5 M against the current yearly salary cap. But you would probably come away with some valuable players, including a few starters. That might make Mr. Haslam feel better about blowing a few million of salary cap money.
Wouldn't that be better than blowing the same amount of money on a "name" player who can't actually play, like the inimitable Dwayne Bowe? That guy cost the Browns about 11 million dollars by himself.
So that's what I think the Browns might do this off-season: outhustle and outspend the competition on Undrafted College Free Agents and other low budget free agents. They may find this is a better investment than offering big bucks to overrated veteran free agents.