Otto Graham was signed by Cleveland as a free agent for the new All America Conference. He was drafted fourth overall by the NFL Detroit Lions but did not sign with them.
Otto Graham was the most dominant quarterback in NFL history. Maybe Browns fans are still spoiled by having him win championship after championship.
Frank Ryan was the last qb to win a World Championship with the Browns. He was drafted in the fifth round by the LA Rams and was traded to Cleveland.
Dr. Frank Ryan was the NFL's only PhD Mathematician, and he helped Paul Brown win the World Championship in 1964.
Bill Nelson was drafted in the 10th round by the Steelers in 1963, and eventually traded to Cleveland where he become the starter in 1968. Nelson was the consumate game manager, with no mobility, only an average arm, but a ton of guts and the ability to win football games. But he couldn't throw the deep ball to Paul Warfield, so the Browns solved that problem by trading Warfield for a new quarterback.
Bill Nelson won with guts more than athletic ability.
The Browns traded up for Mike Phipps, giving up Hall of Famer Warfield and All Pro halfback Ron Johnson. Art Modell acted as his own GM in that gem of a trade.
Brian Sipe was drafted in the 13th round in 1972. He spent two years on the Reserve Squad and didn't become the starter until 1976.
Could a 13th round pick possibly be better than top-drafted Mike Phipps? Um, yes, actually.
The Browns traded up for Bernie Kosar, taking him in the first round of the supplemental draft. He cost two number 1's, a 3rd and a 6th.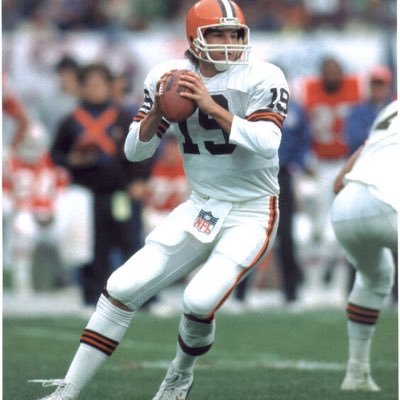 Bernie Kosar was the last brilliant quarterback that the Browns had, with the possible exception of the one year Tim Couch led the Browns to the playoffs, only to be inexplicably forgotten by most fans.
Tim Couch was drafted first overall, as the Browns turned down a megadeal from New Orleans. Counting that missed opportunity, the Browns have expended 17 draft picks in the last 17 years, none of whom have been particularly good.