Some very interesting data on quarterback ball velocity comes via the NFL combine and Ourlad's guide to the NFL, which posts the ball velocity from some quarterbacks from 2008-2015. Not everyone participates in the velocity drill and in fact a lot of the better quarterbacks skip it. Plus it's probably not that accurate of a test as there are all kinds of different throws that the quarterback makes in real life. Still the numbers probably do mean something. I was surprised by a few items. First, look at the top guys. Colin Kapernick and Kirk Cousins have a 59 mph ball, but so does former Brown Brandon Weeden.
Believe it or not, the Browns' Austin Davis produced higher velocity at the combine than Cam Newton, Jameis Winston and Marcus Mariota. It doesn't prove that he is a good quarterback, but I'd like to see how he does with another year with the same team.
Austin Davis is up there too at 58 mph. But Jameis Winston is supposed to have a cannon, and he is in the middle of the pack. Guys like Cam Newton, Marcus Mariotta, Joe Flacco, Blake Bortles and Russell Wilson are also at the 55-56 mph range.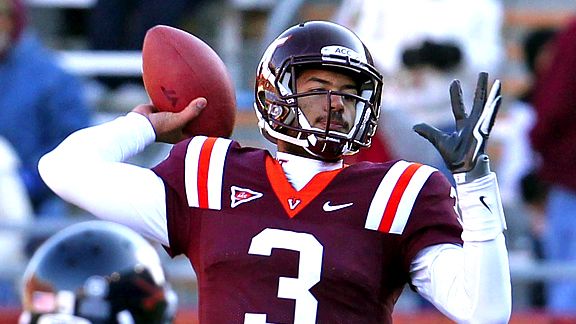 The highest velocity measured since 2008 was Logan Thomas of Virgina Tech at 60 mph. He hasn't been tearing up the league so far, and was released by the Cardinals. He's now with the Dolphins.
Not everyone with high velocity is taken by the pros. There were 5 guys who were at 59 mph that I had scarcely heard of. Apparently some of the strong-armed guys just were not pro prospects.
On the other hand, for the guys who are very slow, almost none make it. Only Tyrod Taylor is a starter with a 50 mph ball, and in his case a lot has to do with his running ability. That would make you think that Connor Shaw might really struggle to make it in the NFL based on his small size and slow fastball at 50 mph. I also wonder what the Vikings were thinking when they took Christian Ponder at 51 mph. Basically, nobody other than Tyrod has made it as a fulltime starter if they couldn't throw at least 55 miles an hour.
Kirk Cousins, Michigan State 59
Colin Kaepernick, Nevada 59
Brandon Weeden, Oklahoma State 59
Ryan Mallett, Arkansas 58
Austin Davis, Southern Mississippi 58
Tom Savage, Pittsburgh 57
Sean Mannion, Oregon State 57
Mark Sanchez, Southern Cal 57
Josh Freeman, Kansas State 57
Chase Daniels, Missouri 57
Marcus Mariota, Oregon 56
Blake Bortles, Central Florida 56
Jimmy Garoppolo, Eastern Illinois 56
Curtis Painter, Purdue 56
Russell Wilson, Wisconsin 55
Geno Smith, West Virginia 55
Jameis Winston, Florida State 55
Jake Locker, Washington 54
Landry Jones, Oklahoma 53
Ryan Lindley, San Diego State 52
Kellen Moore, Boise State 52
TJ Yates, North Carolina 52
Marqueis Gray, Minnesota 51
Christian Ponder, Florida St 51
Connor Shaw, South Carolina 50
Michael Glennon, North Carolina State 49
Josh Johnson, San Diego 49