Browns fans are madder than hell and they ain't taking it no more! Brian Hoyer, the fans want you gone. Not sure who they want in, but it isn't you.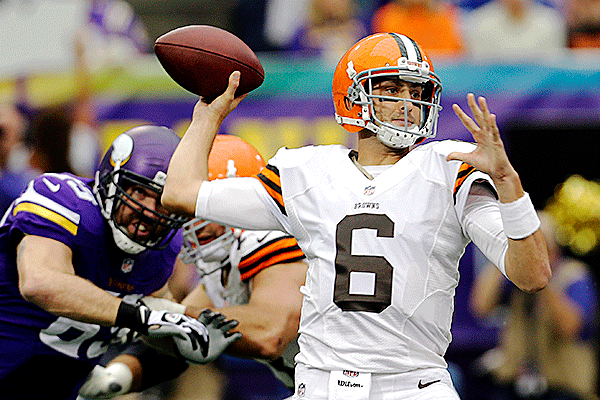 Why do Cleveland fans seem to hate Brian Hoyer? Many want Johnny Manziel or some other hotshot, rather than helping team improve in other areas.
Judging from Facebook forums and other public media, the number one priority of the Cleveland Browns ought to be upgrading the quarterback position, and replacing Brian Hoyer. To me, this is a clear case of Quarterback Fever, which afflicts fans and General Managers alike, and makes them fascinated by the quarterback position to the exclusion of all else.
Keep in mind that the Browns finished 11th in the NFL in passing yards this season. Not last. Never mind that the halfback had the worst yards per carry average in the NFL. Never mind that the porous offensive line led the NFL in hits allowed on the quarterback, and finished third in the league in sacks allowed with inconsistent play at both guard spots. Never mind that the Browns had only two solid receivers (Pro Bowlers Josh Gordon and Jordan Cameron). Browns fans want to replace Brian Hoyer.
How bad was Brian Hoyer? Well, the Browns as a team won four games, with Hoyer quarterbacking the team in to of those of those games and starting a third winning game before hurting is knee. In the other games started by Brandon Weeden or Jason Campbell, the Browns went 1- 11. Hoyer played in only three games before going out with a torn ACL. Nevertheless, 3-0 is not good enough for this team, apparently.
Hoyer's had a few years backing up Tom Brady of the Patriots as well as Roethlisberger in Pittsburgh and also played a little in Arizona. He has passed for over 1000 yards in his brief career, which is not a lot but enough that he is no longer a raw rookie.
Certainly if there is some phenomenal talent out there, like a John Elway, an NFL team would draft that player whether they need a quarterback or not. But it seems that Browns fans want a rookie quarterback regardless of whether he is really any good or not.
My guess is that Farmer sees a plethora of good-but-not-great qbs in this draft, while guys like Khalil Mack, Jadeveon Clowney, Greg Robinson and Jake Matthews grade out as potential All-Pros.
My guess is that the Browns will draft a quarterback or maybe two, but not necessarily the top guys. Hoyer will start training camp at the top of the depth chart, despite the fans wanting to do away with him. It will be up to the other contenders to convince Coach Pettine to move them up. I don't expect a rookie to be handed a job on a silver platter.
This is not Coach Pettine, and this is not how a new QB will be handed a starting job.
Derek Carr is a good quarterback who could go early, maybe even to the Browns. Some people worry his career might follow the same path as his brother David's. But don't worry, former Browns guru Chris Palmer is not coaching this kid, like he did David Carr and Couch!
Blake Bortles is another potential top 10 pick. But can the Browns have a quarterback who sticks out his tongue while making a pass?
To listen to the news media, Teddy Bridgewater might have been the best quarterback in the draft in February, but now that it's April, he may not be selected until the second round. Really?
I think Jimmy Garoppolo may sneak into the first round. He did not play Division I-A ball, but he has a big league arm to go with 53 TD passes last year.
The Lynch Mob is highest on Johnny Manziel, who they are convinced is ready for instant stardom. The Village Elliot, however, thinks that Manziel grades out more like a late first round pick rather than an early pick.
Here he demonstrates the universal Klingon salute.